Addie Orr, Heisman High School Scholarship Winner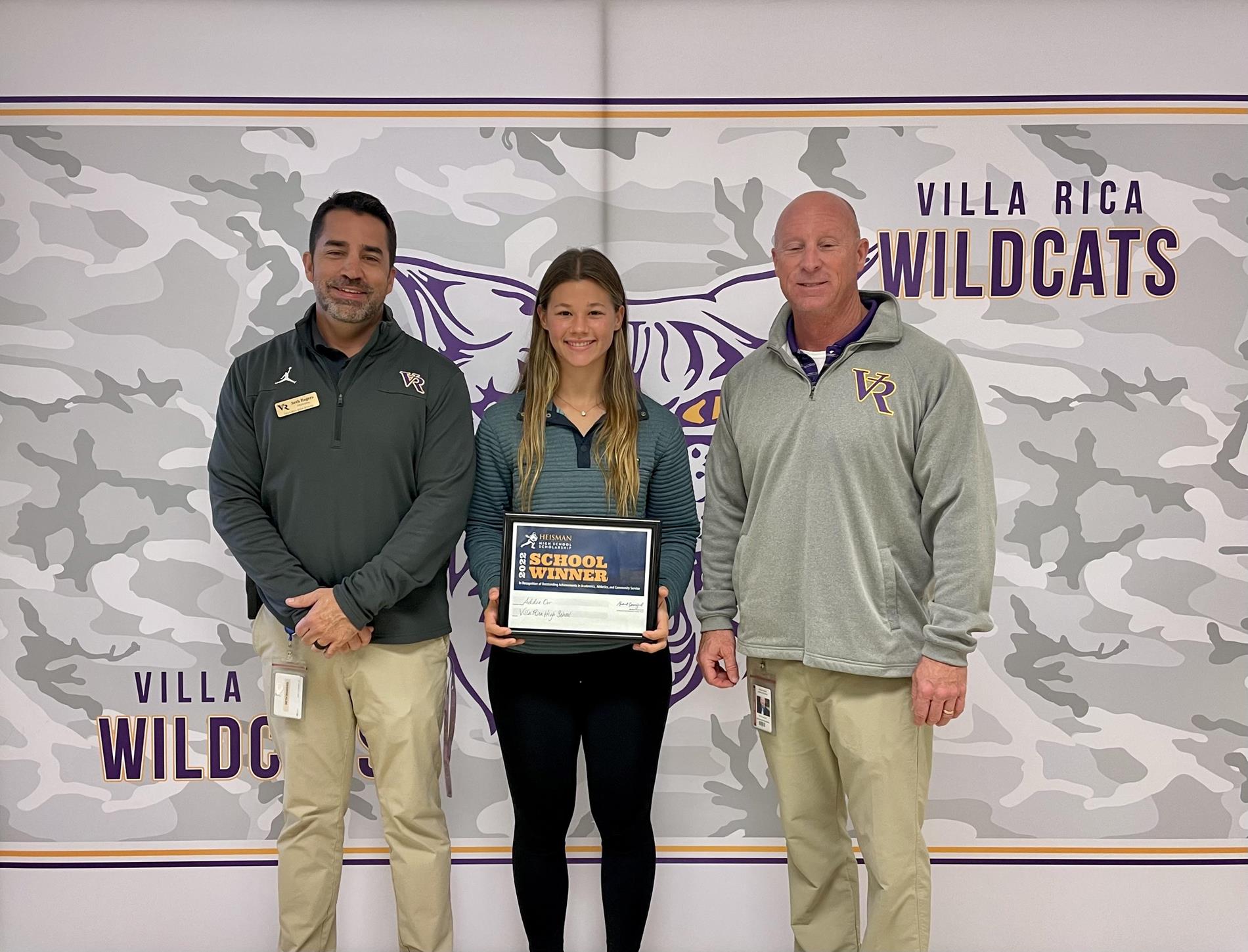 ---
Villa Rica High School softball standout, Addie Orr, was selected as a Heisman High School Scholarship recipient.
Addie is a member of the Class of 2023 and lettered in Varsity Softball for 4 years as a catcher. She helped lead her team to 3 Region Championship and 4 State Appearances. Addie has committed to play softball at the next level at Berry College where she will major in Elementary Education and was awarded the Merit Scholarship. VRHS Softball Coach Cody Skinner says, "Watching Addie grow over the last 4 years has been an absolute pleasure. She has become a bright, intelligent lady that used softball as an avenue to reach her goals. She has grown so much over the last 4 years in our program from a timid freshman to being a leader for our program both on and off the field. We are so proud of her and all she has accomplished."
Addie is a 2022 Future Georgia Educators State Winner and 2022 Positive Athlete Georgia Regional Winner, and was recognized in 2020 as All-Region 2nd Team and 2021 All Region 1st Team and Academic Team for Softball. Among her many awards and accolades, she was recognized as the 2021 Fellowship of Christian Athletes Character Award and 2021 Silver Slugger Award. She is a member of the Flag Football Team and Weightlifting Team, National Honor Society, Beta club, SGA, Chick-fil-A Leadership Academy, FCCLA, FBLA, and Spanish Honors Society. She has been chosen by her peers as a 2021 and 2022 SGA Class Officer, West Metro FCA SALT Leader, and to represent her class on Homecoming Court as a sophomore, junior and senior. Addie has spent many hours volunteering through the Children's Ministry at Midway Church, her various clubs, and the VRHS Softball Team.
The Heisman High School Scholarship program was founded in 1994 as a partnership between Wendy's and the Heisman Trophy. The Heisman High School Scholarship is awarded to students of great ability, diligence, perseverance, and hard work. When Seth Rogers, VRHS Principal, was asked to describe Addie, he said, "Addie embodies everything as Wildcat should be. She is a true student-athlete. We are so proud of Addie and cannot wait to see the great things she will do in our community in the future."