February 26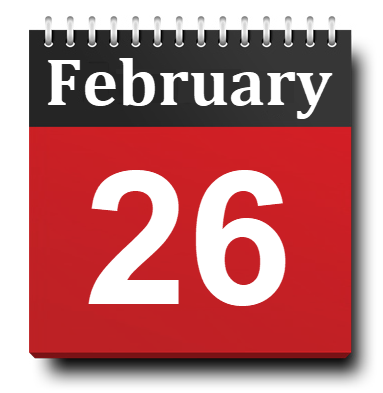 ---
Happening today:
French Exchange Students Arrive

Track @ Wheeler HS
Sports:
The JV Baseball game originally scheduled for this Thursday has been rescheduled for Friday, 2/28. It will be a double header, starting at 5:00pm.
If you plan on trying out for softball you need to sign up with Coach Skinner. Come to the new gym ASAP to sign up you need sign up before end of Friday.
The boys' Tennis team took on Paulding County High School yesterday and took home the win in their first region match of this season. Excellent singles sets played by Josh Hembree, Nick Palagano and an outstanding doubles win by Markees Ewers & Josh Yarbrough.
Anyone needing an application for cheerleading, please go by and see Coach Day (room 603) or Coach Weaver (room 102). All completed applications must be turned in by March 12. Late packets will not be accepted.
Clubs and Fine Arts
Congratulations to all of the students who participated in the Literary Competition 2020, on February 25th at Carrollton High School. The students performed for judges and competed against 8 other schools in the region. Olivia Tomlinson, Josie Adair, and Reagan Clay received 1st place in the region for their categories, and will advance to the state level in March. Great job representing VRHS!
The Creative Writer's Club will meet on Monday, March 2 in Mr. Tucker's room, room 119.
"Dear Chuck" Rehearsal will commence at 4pm this afternoon in Mr. McCall's room.
VRHS is going to Italy and Greece in Summer 2021! If you are interested in traveling with us but missed the registration in December, registration is still open! Those who register before Feb. 28th will be awarded the $200 scholarship towards the cost of trip, which was offered through the December registration. Use the link to save your spot today before it's too late! www.eftours.com/2333097nk
Guidance:
The University of West Georgia will be administering the Accuplacer to students interested in dual enrollment on March 5th, 2020 at 8:30 am. ONLY students in 10th and 11th grades are eligible to take this test. 9th grade students interested in dual enrollment still must take the SAT or ACT for admission to UWG. See Ms. Olinger for more information or to register.
Mark your calendars:
Underclassmen Honors Night: Midway Church, April 21, 2020, 6:00 pm
Senior Honors Night: Midway Church, May 19, 2020, 6:00 pm
Seniors:
Please check out your Scholarship Web Page under the Counseling Office on the VR web page. Go to the Resources tab, and then click on Guidance. There are over 15 scholarships that are due the month of March.
If you are attending a four- year or two-year college and your parents or guardians are members of Carroll EMC, please stop by the Counseling Center or email Ms. McFadden your name for this scholarship opportunity of possibility qualifying for $500 or $1,000 dollars.