Daily Announcements - October 7th, 2020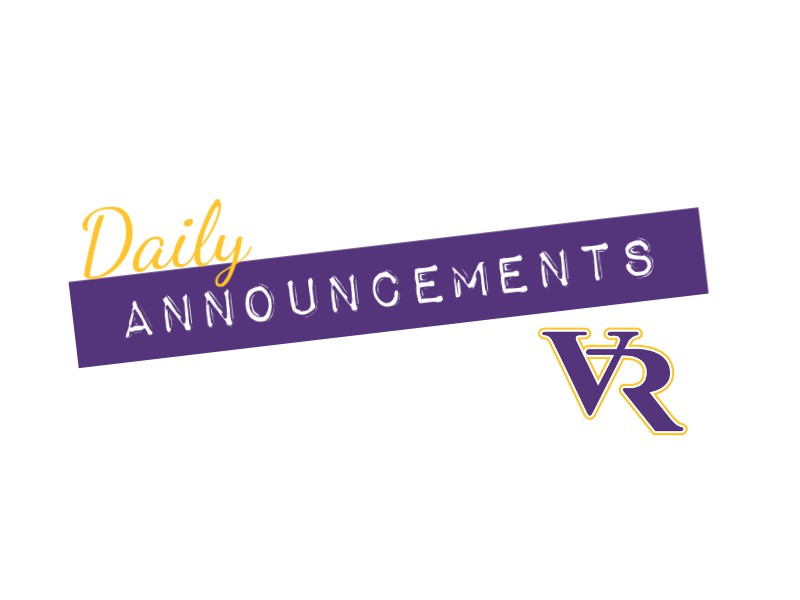 ---
Happening now:
 Pajama Day
 Statewide Fire Drill
 Purple Pearls Meeting 3:45 (Cafeteria)
 National Honors Society Induction 6pm (Gym/Band Room)

Homecoming:
2020 Homecoming Dress Up Days
for Spirit Week (October 5 th -9 th ):
 Monday: Meme Day
 Tuesday: Tropical Tuesday
 Wednesday: Pajama Day
 Thursday: Throwback Thursday (Decades Day)
 Friday: VRHS Spirit Day
We have Homecoming Spirit ribbons for purchase! The small ribbons are $1, the large ribbons with the Homecoming Court are $2, or you can purchase both for $3.00. See Mrs. Day or Mrs. Beth Butler to purchase.
Clubs and Fine Arts:
International Skills Diploma Seal (ISDS) Club will have its first meeting on Wednesday, October 28th from 3:45-4:30 in Mrs. Allen's Room (605). The Google Classroom code and Remind code are posted on the ISDS wall outside of Mrs. Allen's.
Please support the VRHS Band's Coke fundraiser! This is the last week to purchase Coke products. All proceeds are going towards purchasing new marching band uniforms. Please find any band student if you would like to purchase. The deadline is this Thursday!
Beta members: The October meeting is today -- October 7th! The meeting video and agenda will be posted on Google Classroom that day, so please be on the lookout. Remember that you have one week from the meeting date to access the information & submit your attendance!

Guidance Office:
The Counseling Center has several upcoming events, please mark your calendars and more information on these events will follow:
 October 7th, 21st and 28th -Seniors college applications assistance in Media Center 5th period
 October 20th -YouScience Day- during 5th period school wide event
 October 22nd - Financial Aid Night (Virtual)
 October 29th - PSAT -10th graders (no cost) and Juniors (cost $20.00) may sign up in the Counseling Center
 October 29th (tentatively) - ASVAB -sign up required

Testing:
AP Students: It's time to order and pay for your exams online. Please check out the APTS website for ordering information or your AP teachers or Ms. McFadden. Your deadline to order is Nov. 3rd.

Seniors:
Seniors, Balfour will be on campus this Wednesday, October 7th during all lunches to collect senior dues payments, which are currently $130. You can pay by cash (exact change only), check made out to Balfour or by credit card with a $4.95 service charge.

Library Books:
Overdue library books can be dropped in the book return which will be in the hallway outside of the media center between classes through this Friday. Freshmen and Sophomores: This includes your middle school books. Your middle school fines have been cleared, but you need to return the books so that you can check out here at VRHS. Mrs. Evans will make sure your books are returned to the middle schools and your accounts cleared. Check your student email for overdue notices.

Quote of the Day:
"Any day that you can stay in pajamas all day is a good day."