February 25, 2020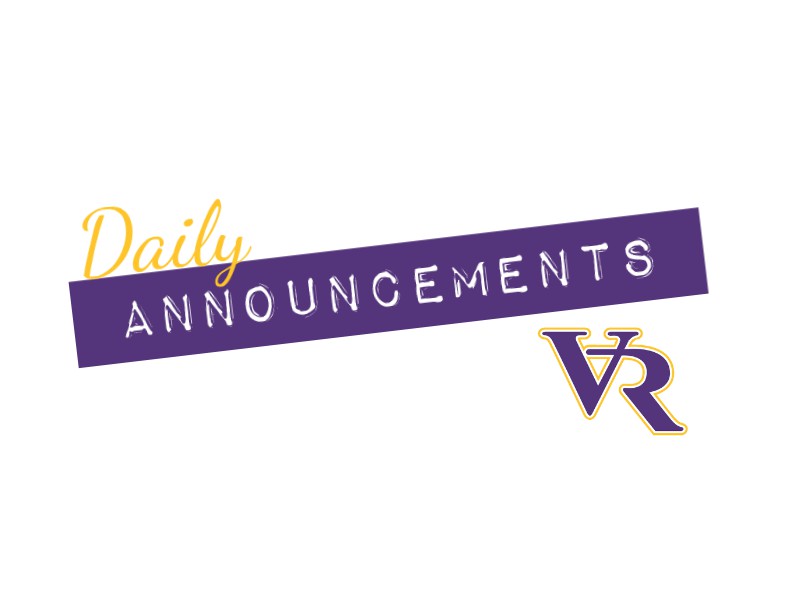 ---
Happening today:
Literary Competition

Boys Tennis @ Paulding Co. HS

Girls Tennis @ HOME

Varsity Soccer @ Rome HS

JV Baseball @ Bowdon HS
Sports

Anyone needing an application for cheerleading, please go by and see Coach Day (room 603) or Coach Weaver (room 102). All completed applications must be turned in by March 12. Late packets will not be accepted.
Congratulations to our Winterguard for earning 1st place for the second consecutive competition on Saturday at Alpharetta HS! We are very excited about the development of the show and the improvement from one week to the next. Keep up the hard work!
Picture day for sports is Friday, February 28. Check with your coach about your picture time.
Clubs and Fine Arts
Picture day for clubs and organizations is Friday, February 28. Check with your sponsor about your picture time.
Congratulations to VRHS students, Haley Graves and Rylee Martin, on their 1st place finish at the FCCLA Region 4 STAR Events for their project "Princess Tea Party." They participated in the Princess Tea Party Fundraiser sponsored by CTI Coordinator, Lisa Davis. Money raised was donated to Children's Healthcare of Atlanta. The event had elementary aged girls getting hair and makeup done, fingernails painted, dancing, and decorating cupcakes or cookies.
Did you receive an invitation to join Beta Club? Remember that your Induction fee, as well as your signed contract and consent form, are due by 4 pm today, February 25 to Mrs. Manley in room 121. No late forms or fees will be accepted!
The VRHS Jazz Band is looking for a pianist for the amazing jazz band. The jazz band rehearses after school on Wednesdays and will perform a concert in April or May. Please see Mr. Brown in the band room if you are interested.
Any student interested in joining Chorus, learning to play piano or learning to play guitar next school year: please email Mrs. Hurd or visit room 512 for details when you are available.
The Creative Writer's Club will meet on Monday, March 2 in Mr. Tucker's room, room 119.
VRHS is going to Italy and Greece in Summer 2021! If you are interested in traveling with us but missed the registration in December, registration is still open! Those who register before Feb. 28th will be awarded the $200 scholarship towards the cost of trip, which was offered through the December registration. Use the link to save your spot today before it's too late! www.eftours.com/2333097nk
Guidance:
The University of West Georgia will be administering the Accuplacer to students interested in dual enrollment on March 5, 2020 at 8:30 am. ONLY students in 10th and 11th grades are eligible to take this test. 9th grade students interested in dual enrollment still must take the SAT or ACT for admission to UWG. See Ms. Olinger for more information or to register.
The University of West Georgia's College of Arts and Humanities "College Preview Day" will be on Saturday, February 29th. This is an event for students interested in Art, English, History, Foreign Languages, Music, Philosophy and Theatre. A direct link to the registration site can be found on the school website. This event is free and allows students an inside view to college life in these disciplines! All VR students are invited to attend.
Scholarship opportunities:
Scholarships are posted to the Scholarship page on the Counseling Office website. Lots of money out there to be claimed! There are even scholarships for underclassmen.
Underclassmen Honors Night: Midway Church, April 21, 2020, 6:00 pm
Seniors:
Seniors!!! Please check out your Scholarship Web Page under the Counseling Office on the VR web page. Go to the Resources tab, and then click on Guidance. There are over 15 scholarships that are due the month of March.
If you are attending a four-year or two-year college and your parents or guardians are members of Carroll EMC, please stop by the Counseling Center or email Ms. McFadden your name for this scholarship opportunity of possibility qualifying for $500 or $1,000 dollars.
Senior Honors Night: Midway Church, May 19, 2020, 6:00 pm