February 13, 2020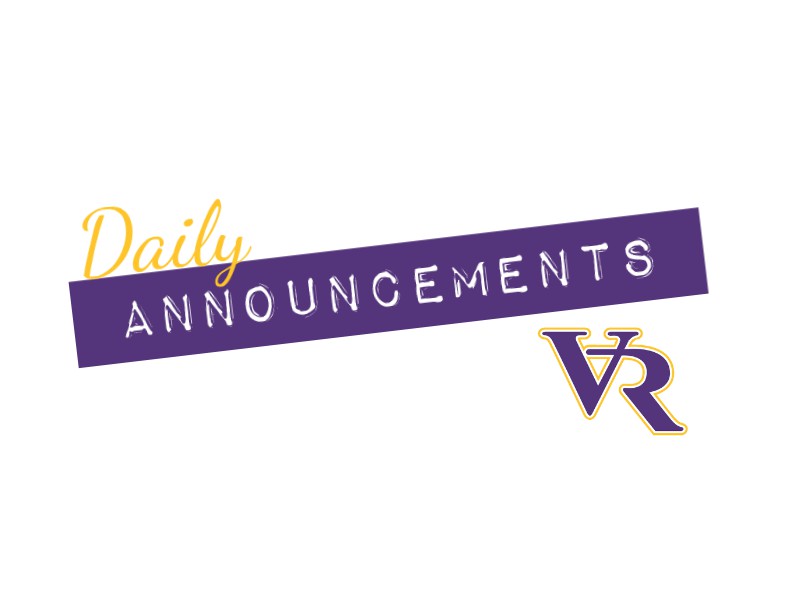 ---
VRHS Daily Announcements
Happening today:
District Honor Band

Girls and Boys Soccer @ HOME

Girls Tennis @ Woodland HS

Boys Tennis @ HOME



Quote of the day: "Kindness makes you the most beautiful person in the world, no matter what you look like."
Sports:
The Baseball double-header this weekend has been changed from Westminster to Dunwoody High School, and will begin at 6:00pm.
Anyone interested in trying out for Softball there will be an informational meeting on February 24th in Cafeteria at 6:30. Please be in attendance with a parent.
Anyone needing an application for cheerleading, please go by and see Coach Day (room 603) or Coach Weaver (room 102). All completed applications must be turned in by March 12. Late packets will not be accepted.
Clubs and Fine Arts:
The Civic Club is holding a voter registration drive for any Junior or Senior who is at least 17 years old. You will need an ID and to know your Social Security Number. The drive will take place outside of the cafeteria during the week of February 10th – 14th during all lunches. Make sure to come and register so you can participate in the upcoming elections this year.
Any student interested in joining Chorus, learning to play piano or learning to play guitar next school year: please email Mrs. Hurd or visit room 512 for details when you are available.
UWG will be hosting a day of art workshops and studio visits on Friday, Feb 14th. See Mr. Jordan if you are interested in learning about the UWG Art Department and taking advantage of this unique opportunity.
VRHS is going to Italy and Greece in Summer 2021! If you are interested in traveling with us but missed the registration in December, registration is still open! Those who register before Feb. 28th will be awarded the $200 scholarship towards the cost of trip, which was offered through the December registration. Use the link to save your spot today before it's too late! www.eftours.com/2333097nk

Seniors:

Scholarship opportunities:
18th Annual Healthy Heart Essay Contest (1st place: $500.00; 2nd place: $300.00; 3rd place $200.00), Due: Feb. 21st

Jarred Bailey Wright "Bubba" Scholarship ( $700.00 awarded), Due Mar. 27th

Fairfield Plantation Women's Club Scholarship (must be a resident of Fairfield and female) up to $600.00 awarded, Due: Mar. 31st
See Ms. McFadden in the Counseling Center for applications.
If your parent or guardian is active duty or retired military, or a military veteran, please see Ms. McFadden in the Counseling Center to be nominated for $1,000.00 scholarship offer.
Juniors:
Attention Junior and Seniors: This is the last week to pay for prom before all prices increase. Juniors: your dues are $225 and will be $300 when we get back from break. Seniors: your dues are now $90 and will be $140 when we get back from break. All date fees are currently $50 and will increase to $100 when we get back from break. Be sure to pay Mrs. Ogden soon!
Belles of the Ball 2020: Free Prom Dresses! Date: Saturday, Feb. 15th from 10am-4pm / location: 302 West Georgia Drive, Carrollton, GA 30117 / Feel free to park in the campus center parking lot, while attending the event in the campus center. Questions? Call 770-688-4898 or email bellesofball@gmail.com
Driving tip: did you know?
Under GA law, drivers in Georgia must turn on their headlights at these times: a half-hour before sunrise, a half-hour before sunset, when it is raining in the driving zone, and at any other time when there is not sufficient light to see at a distance of 500 feet ahead. It does not matter if streetlights provide enough illumination for the driver to see. The headlight requirements apply even in a fully lit area or parking lot. If you are charged with a headlight offense, you can be subject to a fine and 3 points on your driver's license. For drivers under 18-years-old, 4 points in a 12-month period will lead to a license suspension. The three points assessed for this offense almost assures that any other traffic offense will suspend a driver under the age of 18. So for your safety and others, turn those headlights on and please slow down when it's raining.